Computomics: Data Analysis Experts
Computomics' data analysis experts offer custom services for next-gen sequencing projects - from crop science to metagenomics.

Computomics Services
Computomics' next-generation sequencing data analysis techniques can deliver unprecedented genomic insight for your research. We offer a wide range of services including:
Why work with computomics?
High quality results — Each project is well documented to ensure reproducibility and accuracy.
Multi-platform support —We work with our clients to develop the best sequencing strategy across multiple platforms, including Illumina, ONP, and PacBio.
Industry-leading expertise — Between our in-house bioinformatics experts and extensive collaboration network of consultants, we can tackle tough questions across all data analysis challenges.
Transparent processes — No mysteries to our data analysis, we present our strategy before we start and report all methods and parameters used.
Data security guaranteed — Our high performance compute servers located in a secure data center combined with encryption and two-factor authentication provide highly secure and private handling of your data.
Fast turnaround - Tired of the wait list at your sequencing facility? We deliver great results quickly.
Workflow of a Computomics project
Computomics goes above and beyond to deliver unparalleled data analysis services. We work closely with you to identify your research goals, map out a strategy to achieve them, and define your deliverables. Contact us to schedule your initial consultation.
Final Report & Presentation
Contact
Tübingen, Germany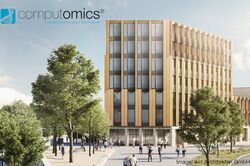 Computomics is based in the university town of Tübingen, situated in the Southwest of Germany, from where we serve clients all over the world.
We also have a presence in Madison, Wisconsin and in the Washington, DC area.
Computomics GmbH
Eisenbahnstr. 1
72072 Tübingen
Germany
Phone +49 7071 568 3995
info@computomics.com