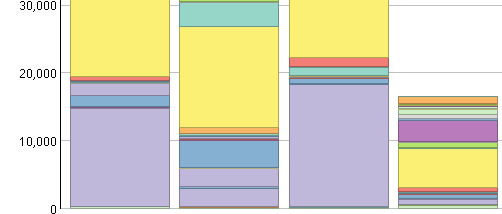 New Visualizations
MEGAN6 offers new visualization techniques to facilitate interpretation and data-driven decisions.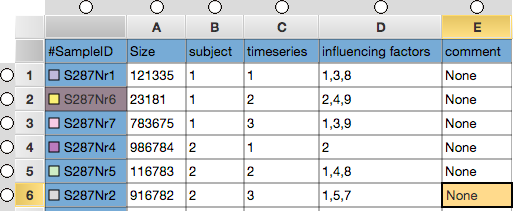 New Samples Viewer
The new samples viewer makes comparing and managing multiple samples at once easier than ever.
DIAMOND Integration
The newly included DAA-meganzier allows for direct import and 'MEGANization' of a DIAMOND Alignment Archive (DAA), saving time and effort. DAA is now readable by MEGAN in only a fraction of the time.

New Color Schemes
To make your visualizations stand out, MEGAN6 provides user friendly color presets for every visualization in the program.
Features of the Ultimate Edition
Ontologies, Databases
The Ultimate Edition comes with a KEGG license to use the KEGG Pathways and visualizations from within MEGAN. In addition to the Taxonomy, InterPro2GO, eggNOG, and SEED database mappings, the Ultimate Edition gives you access to additional databases such as KEGG, PFAM and RDP.
Functional Assignments
Besides the new InterPro2GO mapping, the Ultimate Edition supports the usage of the latest KEGG classifications and metabolic pathways (inclouded with a MEGAN Ultimate License).
Commandline Mode and Scripting
With MEGAN's commandline tools such as Blast2RMA or the meganizer, you are able to quickly convert alignment files produced by BLAST or the fast aligner DIAMOND to a RMA or MEGAN readable DAA file. This saves you a lot of computation time. Ultimate Edition comes with a commandline mode for MEGAN preparing for using MEGAN in automated pipelines. Additionally, the Ultimate Edition provides you with NCBI taxonomy, InterPro2GO, eggNOG, DIAMOND, KEGG, SEED and Silva tailored commandline tools.
Visualizations
Visualizations are key in understanding your dataset. MEGAN allows you to visualize your data the best way possible, therefore you are given visualization tools to create stunning figures and charts. This includes stacked bar and stacked line charts, radial space filling trees, and word clouds. Additionally, you can create attribute correlation plots, co-occurrence plots, and heatmaps.
Obtain a trial license by requesting it
here
.
Community vs. MEGAN6 Ultimate Edition

Community Edition
MEGAN6 Ultimate Edition
Download Links
Community GitHub page
Ultimate Edition Latest Version
Databases, Ontologies, Resources

Taxonomy
InterPro2GO
eggNOG

Taxonomy
InterPro2GO
eggNOG
KEGG (latest)
SEED
PFAM
RDP

Plots: a few examples

Bar
Pie
Line
Stacked
Word clouds

Bar
Pie
Line
Stacked
Word clouds
Radial space filling trees
Attribute correlation plot
... Constantly adding new ones, submit your request

Command-Line Tools

Blast2RMA
Meganize
NCBI taxonomy tools
InterPro2Go tools
eggNOG tools
KEGG tools
SEED tools
SILVA tools

Extensions
Community-generated

Latest KEGG classification and pathways (KEGG License included)
Community-generated

Updates

Occasional bug fixes
No new features

Regular bug fixes
All new features as they are added

Support
MEGAN Community page

MEGAN Community page
email support
Questions answered by developers

Licensing
GPL 3
Licensed by Computomics